Back to  Press Coverage Menu


To view the Alexandra Styron letter, click image

Back to  Press Coverage Menu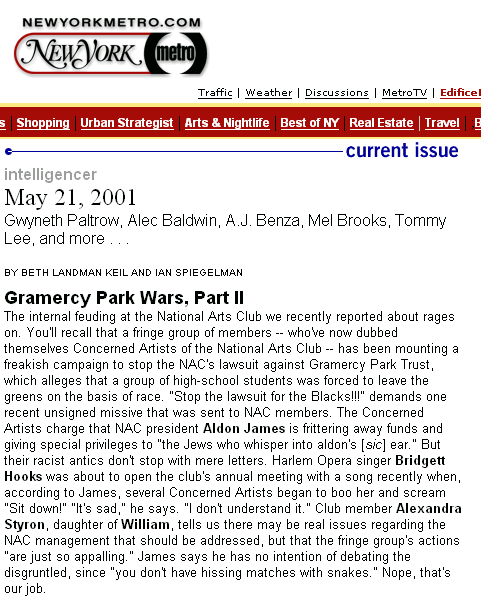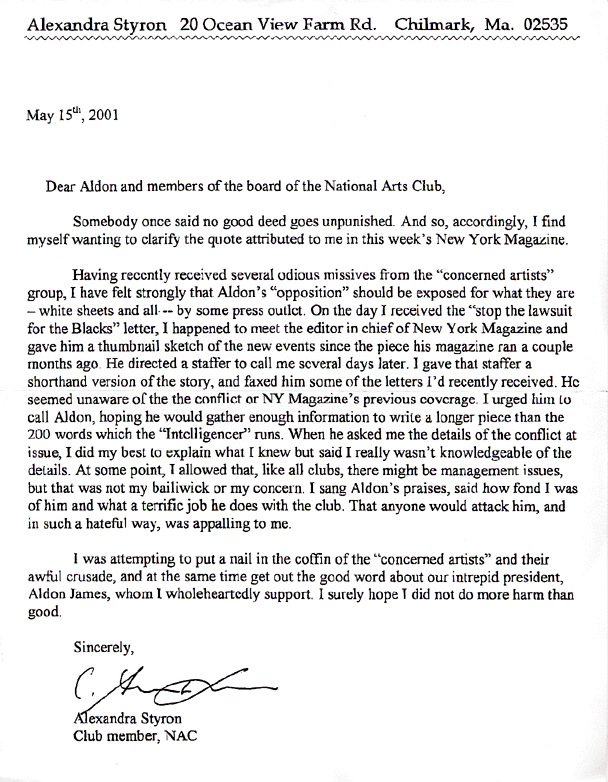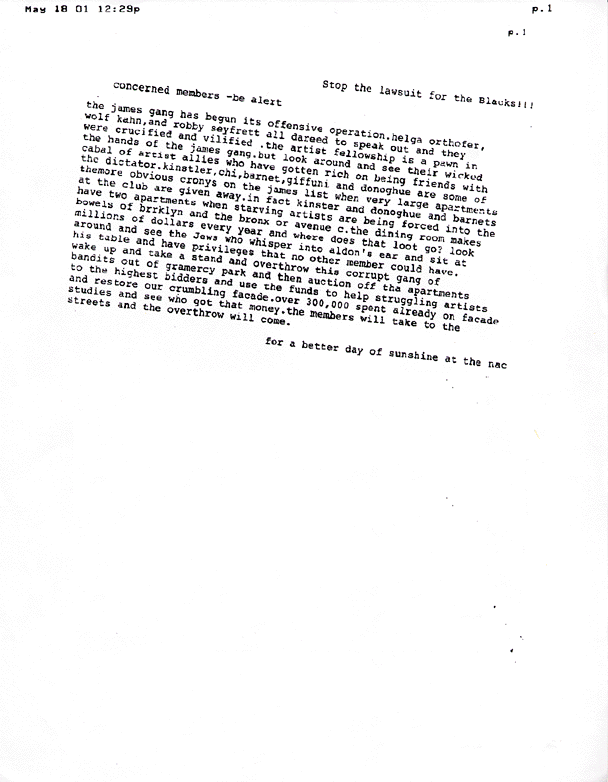 In May 2001, this Intelligencer article below appeared, in which columnist Ian Speigelman reports as fact an attribution made to him by author/NAC member Alexandra Styron, that Concerned Artists was behind a viciously racist and anti-Semitic letter mailed to a number of NAC members.  No Concerned Artist was ever contacted for comment.  Ms Styron described her discussion with Mr. Spiegelman in a letter to The National Arts Club membership which was part of a membership-wide mailing by the James/Leitner administration.

In the article, we are also accused of having disrupted the opening of the May annual meeting while Harlem Opera singer Brigett Hooks was performing.

Concerned Artists, in letters to New York Magazine and to The NAC membership, vigorously repudiated the evil sentiments contained in the letter, and warned that the racist/anti-Semitic letter was a hoax most probably part of a disninformation campaign to discredit Concerned Artists.  In our responses, we challenged the James/Leitner administration to join us in helping the authorities find the culprit(s).  We never received a response.

To view the Concerned Artists letter to the membership disavowing the hoax, click on the image

To view the racist hoax letter, click image

First reference to Concerned Artist's position on activities of the James/Leitner administration appears in this New York Magazine Intelligencer article.

For Concerned Artists' formal statement on this matter, the text of which was also sent to New York Magazine, please click here for the Urgent News section and scroll to April/May 2001.
For an eyewitness account of what actually happened at The NAC annual meeting by Harlem Opera Director Henrie Moodie, click here.